Everest Bets (4/10)
General Information
Everest Bets Bonus Offer
Site URL:
http://www.everestbets.com
Exclusive Bonus:
€30
Software
Victor Chandler (VC)
Deposit Match %:
100%
Rating:
Bonus Code:
Use This Link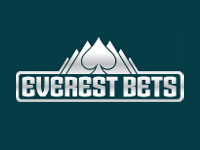 Everest Bets is the latest and greatest part of Everest Gaming. This online sportsbook is a partner with Victor Chandler International or VC Bets.
At Everest Bets you are able to bet on a limited number of sports including football, rugby, and horse racing.
They may not always have the best odds so you may want to check VC Bets at times for their odds as well. Their parent company, Victor Chandler has emerged as one of the largest sports betting companies worldwide. They have years of experience and I trust they bring nothing but good things to Everest Bets as well.
Everest Bets Sports Odds
We'll be honest. Everest Bets doesn't have the best odds out there. They do offer fair odds and occasionally you will find that great line with low juice. But all in all, VC Bets offers far greater odds in our opinion than Everest Bets. The odds seem to update on a pretty active schedule but they often times carry more juice than other online sportsbooks in the industry.
Everest Bets Betting Lines
Everest Bets also does not offer the largest betting lines we've seen. Some sportsbooks have dozens of sports and lines to bet on. Everest Bets only has a handful of sports you can bet on. These sports include:
American Football
Football (Soccer)
Rugby
Basketball
Horse Racing
Not a very large selection huh? Compare this to VC Bets and you will see sports such as Tennis, Golf, Politics and more available to bet on there. We aren't trying to be all negative, unfortunately Everest Bets just wasn't up to our standards in terms of betting lines.
Everest Bets Customer Support
Customer support at Everest Bets is pretty basic. All they offer is a Contact Us form to fill out. The response seems fairly responsive but we feel Live Chat is a must have for any big time sportsbook. They have a handful of FAQ's buried in the help section as well.
Everest Bets Bonus
Everest Bets does offer a small free bet when you open a new account with them. This free bet is like a third of the size as VC Bets free bet offer so it's nothing to brag about at all. These free bets do come with some rollover requirements so be sure to read the terms and conditions as sometimes these change often.
Conclusion about Everest Bets
All in all, Everest Bets is just not a great place to bet on sports. They don't offer great odds and they offer very little in terms of sports to bet on. Their sports betting site just feels a little generic if you ask me.
Everest Bets is also lacking any special bonus or free bet offer. It's all just kind of average to below average. As you have read here, Everest Poker and Everest Casino got great review but we just feel like they dropped the ball with Everest Bets. You are much better off spending your time and money at VC Bets than you are at Everest Bets.