The promotions available at Everest Poker are off the chart! The first and most talked about promotion is the "Live the Dream" promotion. In this promotion you can become a professional poker player! Over 200 poker players will qualify, but only 10 will win the prize. The overall prize is a sponsorship with Everest Poker for one year, which is worth an estimated $100,000.
Click Here to Visit Everest Poker Now
Live the Dream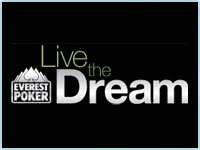 It is easy to qualify for Live the Dream as well. First, you can qualify through:
The tournament leaderboard
The ring game races
Direct entry tournaments
When you qualify online, 200 players will then be asked to show up at a casting call and compete for one of the 10 positions. The players that are chosen will then compete in a live poker tournament, and also be interviewed by Everest Poker. When being judged, candidates will be reviewed and graded based on the following:
Their online poker skills
Their live poker skills
Voting from fellow players
The Live The Dream winners will compete for one year in cash games around the world as representatives of Everest Poker. How sweet would that be? Sign-up for Everest Poker today and start living the dream!
Everest Poker Bonus Promotion
Another promotion offered at Everest Poker is the free 200% match first time deposit bonus of $2000. We can get you this exclusive bonus if you register at Everest Poker directly from our site using one of our special tracking links.
To earn the bonus all you need to do is download the software, register a screen name and then start playing poker for real money. After being registered, you now qualify for the 200% bonus up to $2000 on your first deposit, plain and simple as that.
New Deposit Freeroll
Everest Poker is also offering a $1000 New Depositors Freeroll. After new players make their first deposit, you are invited to a free poker tournament, in which the winner receivers $1000. You must deposit within one week of registering to qualify for this.
Click Here to Visit Everest Poker Now
Winterfest Promotion
Another promotion is called Winterfest. During Winterfest, Everest Poker is giving away $1.5 million in cash and prizes. This is done during the holidays, and can be won several ways including:
Winterfest daily tournaments
Random drawing
Cash game races
Knockout a Team Everest Pro
Qualify for the $250K GTD tourney
Winterfest is a great promotion and is available for each and every member of Everest Poker!
Quarter of a Million Guaranteed
The $250,000 Guaranteed is a promotion offered the first Sunday of every month. During those days, you have a chance to take in $250,000. On this day, a deep stack – 7500 chips tournament will take place. The tournament will start with 5/10 blinds and work it's way upwards.
To qualify for the tournament, there are 13 daily satellite tournaments. During the day of the tournament, Everest Poker offers 21 chances to make your way into the tournament. These satellite tournaments start right away in the morning and go every 30 minutes for 12 straight hours.
More Everest Poker Promotions
Another promotion worth mentioning is the so called Sit and Go Steps. You can climb the steps at Everest Poker for just $2. During this promotion, a series of progressive tournaments take place. If you start at just $2.00 buy-in, you can then climb your way up for tokens that buy you into the larger scheduled tournaments.
The $400,000 Montesino Poker Grand Slam at Everest Poker is the largest guaranteed prize in Austrian tournament history. This tournament will take place on December 9th and is a large, four-day tournament.
The last promotion offered at Everest Poker is the Winner's Choice Tournament. There are four different online tournaments offered each week where players can win big. If you win one of these tournaments you get to choose from a list of great packages offered, such as entry into the 2010 World Series of Poker.
As you can see, Everest Poker has tons of great promotions. Come back here often for the latest updates on Everest Poker promotions.